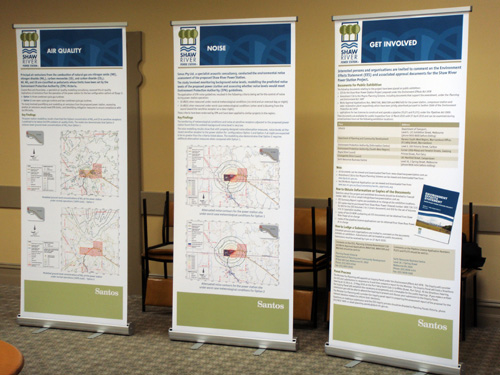 JTA delivered engagement, consultation and communication services for Shaw River Power Station Pty Ltd, a wholly owned subsidiary of Santos Ltd, proposing a major gas-fired power station in a pristine tourist and dairy area near Orford in south-western Victoria.
A range of individuals, groups and organisations was consulted as part of the environmental assessment process. Key stakeholders included affected landowners, the offices of state and federal elected representatives, regulatory bodies, local council officials and other stakeholders (e.g. business organisations, peak agricultural and pastoral associations, social welfare networks, members of environmental groups).
Additional consultation with federal, state and local government elected representatives, senior officials, landowners and Indigenous communities was conducted by the Shaw River Power project team.
Participation and inclusiveness were demonstrated through the range of consultation and engagement methods JTA tailored to specific groups.
We disseminated information and collected community views using proven tools and methods including an 1800 freecall telephone service, project email address and dedicated website, freepost service, staffed and static display banners, have your say forms, public displays, information sessions, information bulletins, project updates, a Frequently Asked Questions publication and broadcast and print media.
The first round of community consultation events was conducted in 2008 for people in Orford, Port Fairy, Koroit, Warrnambool, Wangoom, Naringal, Nullaware, Macarthur, Mailors Flat and Port Campbell.
Although feedback was mostly positive, responses to concerns about noise and air emissions were incorporated and presented during the second round of community engagement in 2009, along with results of specialist environmental studies.
A third round of consultation was held in March 2010.
JTA managed a rigorous and thorough engagement process which enabled the client to understand what resonates with local communities and to fulfil its regulatory obligations relating to consultation during an environmental assessment process.
The level and quality of stakeholder and community participation reflects the strong interest and concerns these groups and individuals have for their local communities
All stakeholder feedback was recorded and addressed throughout the impact assessment phase, and approval was obtained for the Environmental Effects Statement (EES) from the Victorian Government in November 2010.